Architectures¶
We now have the conceptual building blocks in place to understand many of the modern deep learning systems for source separation. In this section, we will outline a few of the recent systems.
These architectures, like all source separation approaches, are divided into systems that make masks that are applied to the mixture spectrogram, and those that estimate the source waveforms directly. All of the same concepts that we've explored in the Classic approaches section still apply; now we're just using a more powerful system (i.e., neural nets) to make a high dimensional representations that we can separate.
Waveform Systems¶
Tasnet & Friends¶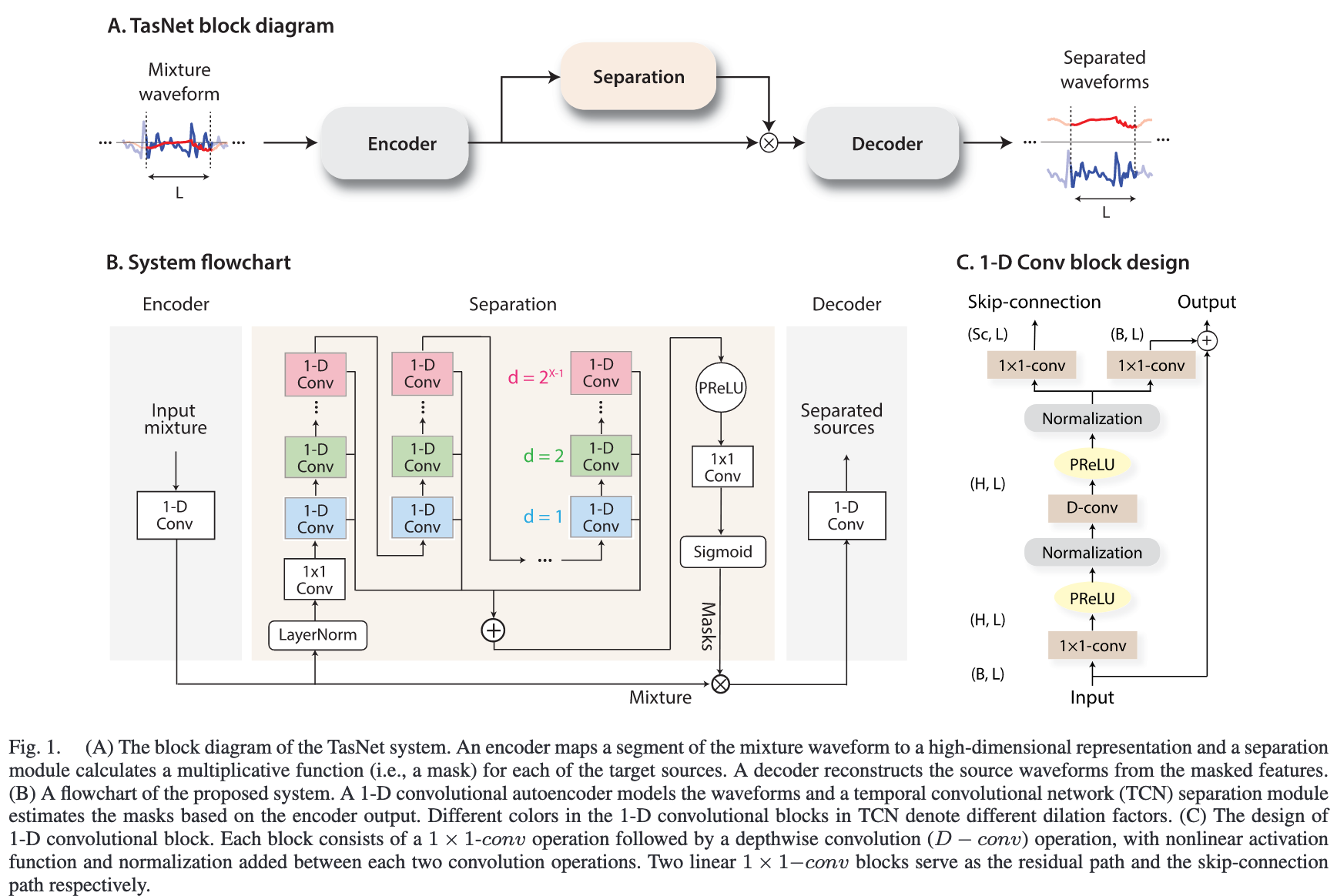 The Tasnet [LM18] is a speech separation architecture that is structured very similar the Mask Inference architecture outlined above, with LSTM layers at the center. Tasnet has one main difference: Tasnet used a pair of convolutional layers to input and output waveforms directly. Additionally, because Tasnet outputs the waveforms directly it doesn't need the additional step of multiplying by a mixture STFT to get the phase information.
ConvTasnet [LM19] is the second iteration of the original TasNet speech separation architecture. It replaces the LSTM center of Tasnet with 1D convolutional layers that separate the input signal.
While both Tasnet and ConvTasnet have both been popular in the speech separation literature, to our knowledge only ConvTasnet has seen use in music separation based on its implementation by the authors of Demucs [DefossezUBB19b]. This is because the translation from speech to music was not so straight forward in this case.
ConvTasnet and Tasnet both use SI-SNR loss between target and estimated waveforms.
Wave-U-Net¶
Wave-U-Net [SED18b] is an extension of the U-Net architecture that operates directly on waveforms. Instead of 2D convolutions/deconvolutions acting on a spectrogram, Wave-U-Nets have a series of 1D convolutions/deconvolutions that operate on audio directly. Just like the spectrogram U-Net though, the convolutional encoding layers are concatenated with the corresponding deconvolutional decoding layers.
Wave-U-Net uses MSE loss between the target and estimated waveforms.
Demucs¶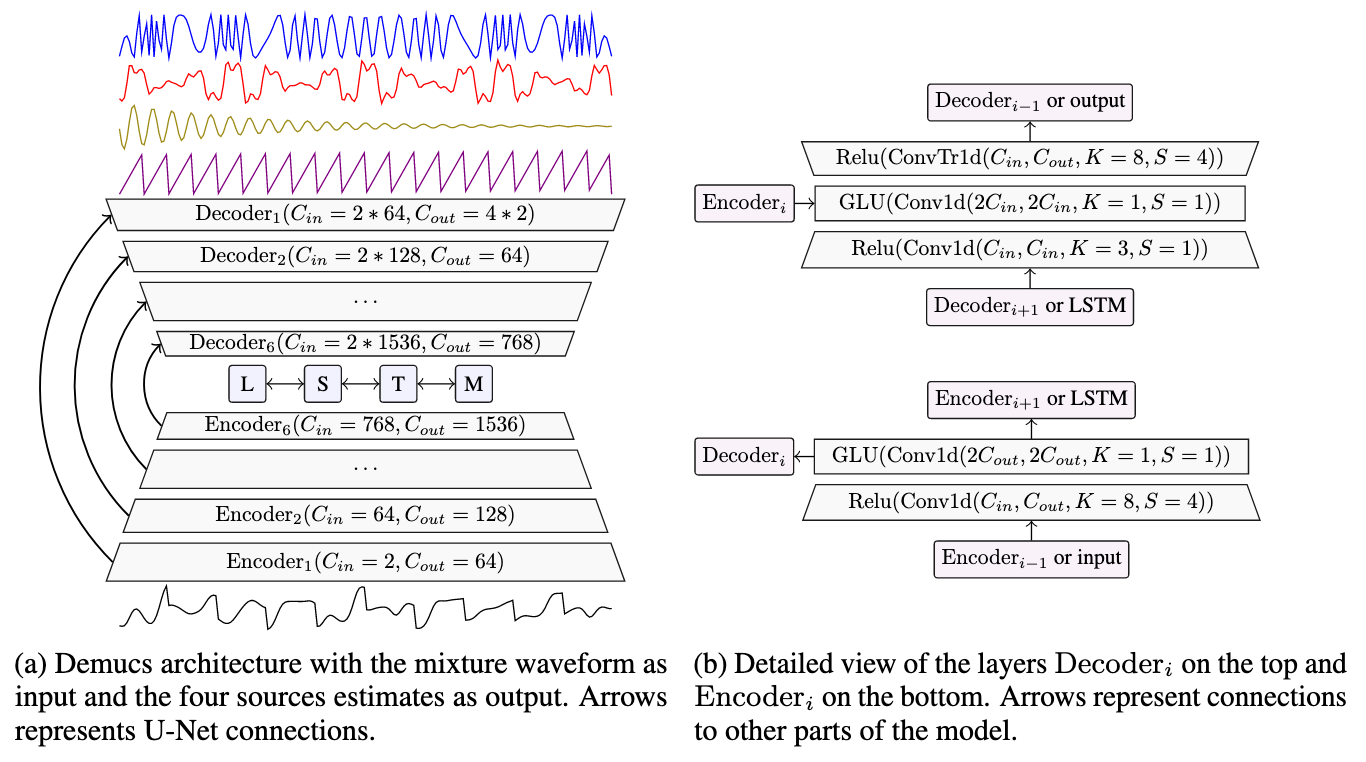 Demucs [DefossezUBB19a,DefossezUBB19b] is similar to both Wave-U-Net and Tasnet. It has the skip connections just as in Wave-U-Net, but at the center it has two BLSTM layers. The specific details of the shape of each layer are shown in the diagram.
The Demucs authors recently released a real-time version of this architecture for speech enhancement. Training a similar model for music could be an exciting development that enables more applications in source separation.
Demucs uses \(L_1\) loss between the target and estimated waveform, scaled by the length (in samples) of the signals.
Next Steps…¶
This wraps up this section of the tutorial. Over the next few sections we will get some hands-on experience building these kinds of models. Before we get to writing model code, though, there's one very important factor about these systems that we haven't covered yet: data!
Coming up, we'll cover how to use Scaper to create large, augmented data sets, and after that we'll wrap up with how to put together and train a model like the ones on this page.